Honolulu Airport Terminal 1 – HNL Terminal 1
Welcome to Terminal 1 of Daniel K. Inouye International Airport (Honolulu Airport), where you'll embark on an exciting journey to explore the beauty of the Hawaiian Islands. Terminal 1, formerly known as the Interisland Terminal, is dedicated to serving interisland flights within Hawaii.
Honolulu Airport Terminal 1 hosts several reputable airlines that operate interisland flights, ensuring you have a wide range of options for your island-hopping adventures. Some of the major airlines serving Terminal 1 include:
Hawaiian Airlines
Southwest Airlines
Mokulele Airlines
Please note that this is not an exhaustive list, and flight availability may vary. Be sure to check with your specific airline for departure gates and other relevant details.
While at Terminal 1, you'll find an array of services and amenities to make your travel experience more enjoyable:
Dining: Savor the flavors of Hawaii with local eateries and food establishments offering delicious island fare.
Shopping: Browse through gift shops and boutiques to find unique souvenirs and Hawaiian treasures to take home with you.
Wi-Fi: Stay connected with complimentary Wi-Fi throughout the terminal, allowing you to share your Hawaiian adventures with friends and family.
Lounges: If you have access to airport lounges, Terminal 1 offers comfortable spaces to relax before your flight.
If you have access to airport lounges, Terminal 1 offers comfortable spaces to relax before your flight.
Hawaiian Airlines Premier Club: Experience the warmth of Hawaiian hospitality in the exclusive Hawaiian Airlines Premier Club. Enjoy complimentary snacks and beverages, unwind with comfortable seating, and stay productive with business amenities. (Located in Concourse A)
Southwest Airlines Lounge: As a Rapid Rewards Premier Member or a Southwest Airlines Rapid Rewards Priority Cardmember, you can access the Southwest Airlines Lounge in Concourse A. Relax in a cozy setting, enjoy refreshments, and make the most of your pre-flight experience.
Mokulele Airlines Lounge: This lounge is dedicated to providing a serene environment for passengers flying with Mokulele Airlines. Enjoy a tranquil atmosphere and convenience while waiting for your flight. (Located in Concourse B)
Getting to and from HNL Terminal 1 is easy, with various ground transportation options available:
Parking: If you're arriving by car, Terminal 1 has convenient parking facilities where you can safely leave your vehicle.
Shuttles: Shuttle services are available for seamless transportation to and from the airport.
Taxi Services: Taxis are readily available outside the terminal for convenient transportation to your destination.
Public Transportation: The airport is well-connected to public transportation, providing easy access to other parts of the island.
Check-in early: To ensure a smooth travel experience, arrive at the airport with plenty of time before your flight's departure.
Explore airline offerings: Each airline may have unique services and amenities, so explore what they offer to make the most of your interisland journey.
Experience island hospitality: Embrace the Aloha spirit as you travel between islands, and don't hesitate to ask locals for recommendations on what to see and do.
Terminal Layout and Facilities
Honolulu Airport Terminal 1 features a user-friendly layout with two concourses: Concourse A and Concourse B.
Concourse A: This concourse is your gateway to adventure, offering flights to various Hawaiian destinations. Prepare to immerse yourself in the vibrant culture and breathtaking landscapes of the Hawaiian Islands.
Concourse B: As you explore Concourse B, you'll discover more opportunities to connect with other islands and experience the unique charms of each destination.
Explore the Honolulu Airport layout below to grasp the airport's overall structure, terminal locations, and concourses. For detailed insights into each terminal, including gates and lobbies, refer to our comprehensive Honolulu Airport Terminal Map. Maximize your travel convenience with our user-friendly guide. Happy travels!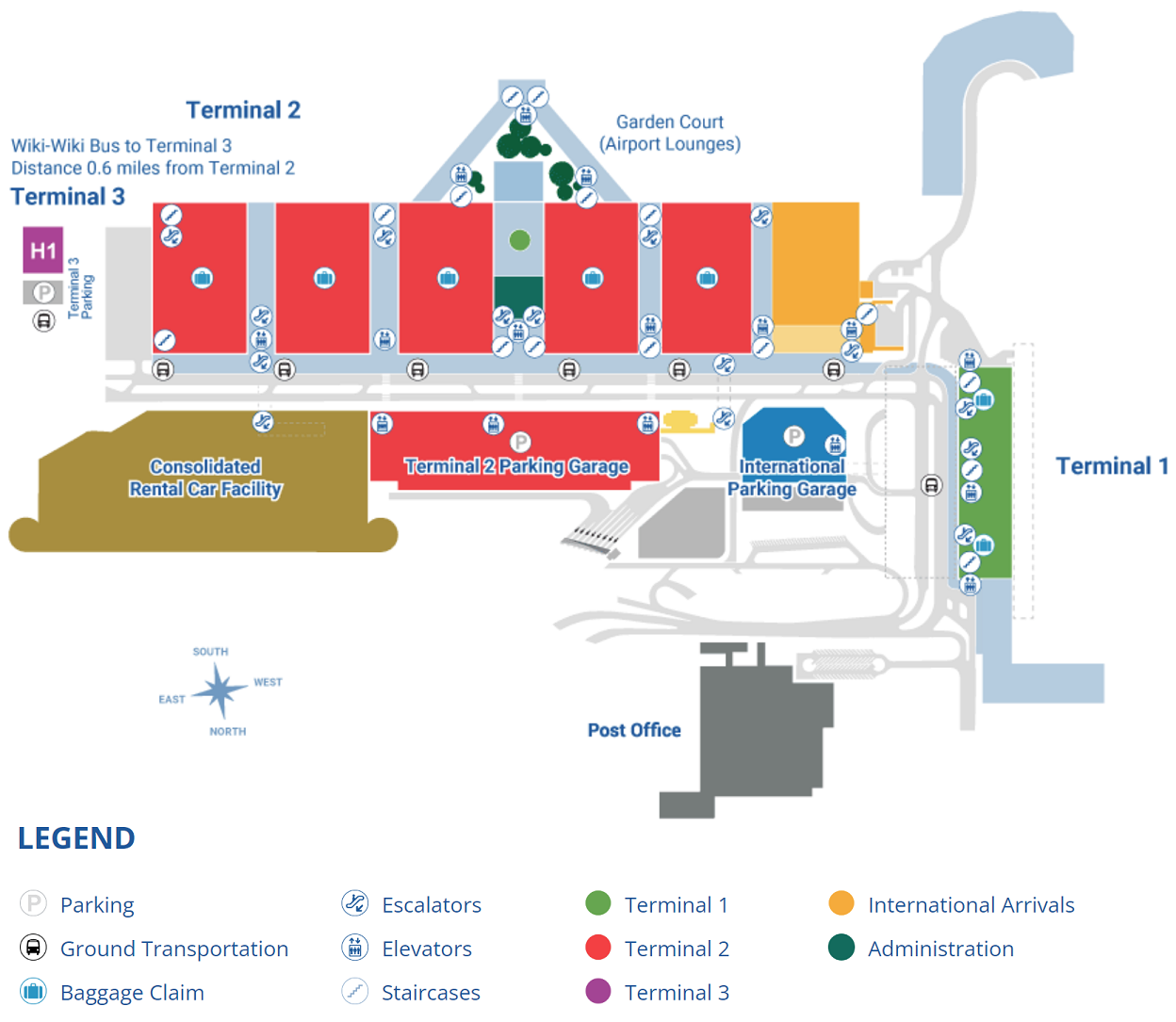 If you have a connecting flight at HNL, it's important to note that Terminal 1 is separate from Terminal 2 and Terminal 3. Make sure to allow enough time to get to your next terminal if you have a connecting flight. If you are arriving at or departing from Honolulu Airport, it is important to check your flight information and be aware of your terminal assignment. You can check your terminal assignment on Honolulu Departures or Honolulu Arrivals.